From the first Bedlam Six album, which was self-distributed as CD-Rs wrapped in cling film, it's been a long road to the recording and release of Youth.
Louis Barabbas, Matthew Cleghorn, Tom Cleghorn, Fran Lydiatt, Biff Roxby and Dan Watkins – who plays what, and where else you can find them.
From their beginnings as a Manchester folk duo, a brief history of The Bedlam Six – complete with youthful photos.
Gallery of some of the memorable poster art for gigs, tours and releases from 2010 to the present.
For venues: download the stage plan and performance requirements for hosting a gig by Louis Barabbas & The Bedlam Six.
"We're a band that's been together a while now. Over the years we've had some fall-outs, we've lost people and gained people, we've been to a lot of places together and learnt a lot of things. We hope there's more of that in front of us than behind."
Meet The Bedlam Six
Since forming in late 2006, the music of Louis Barabbas & The Bedlam Six has infiltrated almost every creative niche, being adapted into animated short films, burlesque routines, musical theatre, fringe festival revues, documentary soundtracks, motion picture scores and even a comic strip.
Over the years they have won praise and support from the likes of Supergrass, The Mighty Boosh, Har Mar Superstar, UB40, Mark Steel, The Hell's Angels, BBC Radio and the Allen Ginsberg: Beat Poet biographer Barry Miles – both for their furious onstage energy and Louis' manic lyrical gymnastics.
Their infamous live shows – incorporating rock, jazz, folk and theatre influences – have demonstrated time and time again that the group is at home on any line-up, sharing the bill with such disparate acts as Motorhead, Sun Ra's Arkestra, I Am Kloot, Eliza Carthy, The Blockheads, Emmanuel Jal and Buzzcocks. They have toured Europe, the USA and Mexico, inspiring stage invasions, dancing in the aisles and a confused mixture of exhaustion and bonhomie wherever they go.
Louis Barabbas & The Bedlam Six are signed to co-operative Manchester-based label Debt Records.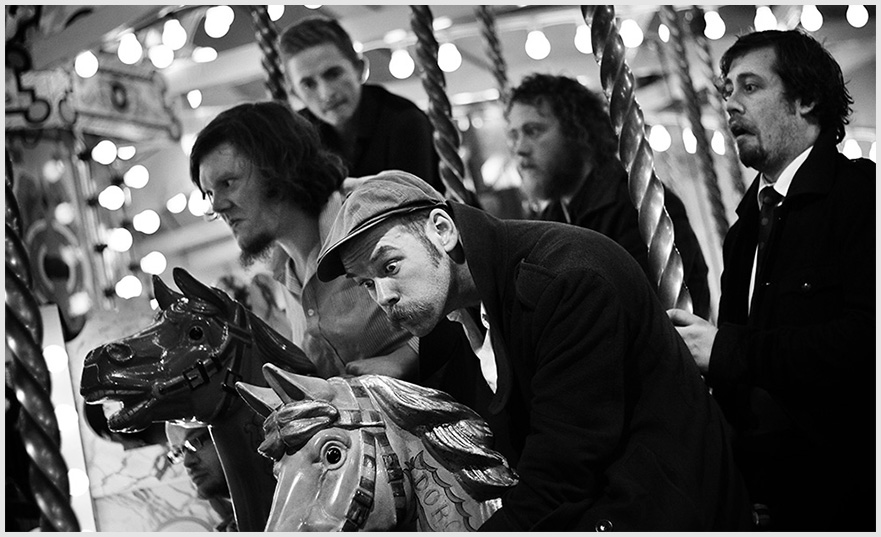 (Photo by Simon Heaton)