Matthew Cleghorn – AKA Cleg or "Fingers Cleghorn", as he's sometimes known by the rest of the band – is lead guitarist of The Bedlam Six. He tells Louis about constructing the right guitar parts for a song, the battle with noise, and why he spent days alone in his bedroom during the recording of Youth.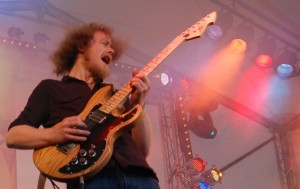 When you and I first formed this band back in 2006 (a very different animal!), you said to me that you weren't interested in playing solos: that you'd rather just do weird stuff in the background, preferably not on electric guitar, and that you didn't feel you'd found your voice. Fast-forward seven years and your electric guitar solos are one of the most striking and memorable things about The Bedlam Six sound. What changed your mind and how/why has your style developed over the years?
I'll always be an advocate of doing weird stuff in the background, but at that time I'd fallen out of love with the electric guitar. For a few reasons, possibly ego and a lack of confidence (those two things not being unrelated), I really didn't want to be just another guitarist. I was still playing a lot of acoustic guitar, but I considered it – much as you do – a songwriting aid more than the vessel through which to express my voice. So I tried to play every instrument I could get my hands on that still had strings and frets. Some I played moderately well, most of them badly, but ultimately none of them with the respect and dedication with which I played the guitar.
I believe it was Dripping With Dew on our first record, Found Drowned, that made me pick up the electric again, because I couldn't find anything else to fit that particular song. At the time it was a seemingly insignificant moment, but it laid the foundation for the sound we have now.
I think, as with all artists, your style develops as you absorb and learn more. I don't know any musician who isn't actively pursuing more knowledge related to their craft; I also don't know any musician who doesn't, at least some of the time, feel like a hack. As long as I keep hearing improvements in the way I play – and ultimately, I'm still really enjoying the songs that I'm playing – then I feel like I'm on the right track.
You're a very ambitious and considered player – I've never known you to just twiddle away aimlessly for eight bars like many soloists. Your guitar parts always have a direction and are constructed in much the same way as one might construct a verse. Where does this attitude come from? Are there specific players who have influenced you in this regard or is this approach a more philosophical one?
First and foremost, it's about knowing what will compliment the song you're recording. The stories told in the song have an arc, so any solo must be in keeping with that arc. The point in a song at which a solo comes in will also have a big influence on my approach to writing it. Sometimes it's good to veer away from the overall feel and create an entirely new sounding section; other times it would be unnecessary and distracting. All I ever hope to do is enhance a piece of music with something that you don't realise is missing until you hear it.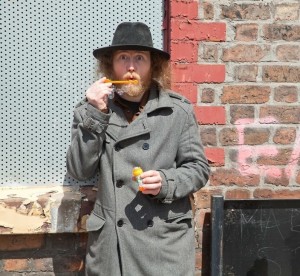 All of my favourite guitarists approach music differently: some are remarkable improvisers (Jerry Reed, Django Reinhardt, David Rawlings), others more methodical (Chet Atkins, Brian May, Paul Simon) and others just strange (Frank Zappa, Marc Ribot, Jonny Greenwood). These are just a few key names in an ever-growing list of influences and inspirations, but they have one very important feature in common: each of them has a very distinctive sound.
Overall, I think my approach is both philosophical and methodical: I aim to tell a story that complements the story it's contained within.
When we play live there's a LOT of noise. Your amps sometimes make my eyes water. Yet when we were recording the full-band sessions for this album we positioned all the amps on the other side of the house to reduce bleed in the drum mics, so we could only hear them in our headphones. On the one hand it's good to all be in the same room making eye contact, but does this reduced connection with your playing affect your energy when recording these early takes? I know I struggle to get the same emotional performance when singing quietly – is it the same for guitar?
Ah, the eternal battle with noise: a defiant obstacle in most of our live endeavours. Thankfully it's much easier to combat when recording. In the past there have been problems recreating the same dynamic feel as a live show, but no such issues cropped up during the recording of Youth. Dan and Biff excelled in planning a studio environment that would do exactly what we needed.
With regards to my emotional performance, it's imperative that I can make eye contact with Tom (the drummer and also my brother). If I can see him then I can get every little change in dynamic nailed, mimic every nuance. This makes the next part of the whole process so much easier.
You've got quite an idiosyncratic sound: a little bit country, a little bit rock and roll. Tell us how you've arrived at this, both in terms of the people who inspire you artistically and also the kind of equipment you use – the effects pedals and amp set-up. How would someone recreate that sound? Be as technical as you like.
Well, as I said before, I'm always listening out for different music. When I hear something I like I tend to work out how it's played – that's all it takes to add a new style or technique to your musical lexicon. Also, most techniques are transferable between genres and a phrase only needs one or two notes altering to take it from rock to country, country to blues, blues to jazz and so on. I think the reason that my sound leans towards country and rock is because, presently, I'm still finding new ways to push myself within those styles. When I feel I've reached a plateau then I'm positive that it'll be time to delve into those styles where I've only begun to scratch the surface.
As for my gear:
Guitars: Gretsch G6119-1962FT Tennessee Rose, Gordon Smith GS 1.5, Yamaha NTX900FM (Nylon string acoustic)
Amps: Fender Musicmaster Bass, Orange Tiny Terror (Vox 10" speaker cab)
Effects: Jim Dunlop Wah – Rothwell Love Squeeze Compressor – MXR Carbon Copy Delay – Ernie Ball Volume Pedal. Here I split the output to 2 amplifiers, as follows: 1 – Mooer Pitch Box – Empress ParaEQ – NuX Modcore – TC Electronics Hall of Fame Reverb – Boss Tuner – Fender amplifier; 2 – Orange amplifier
I think Youth also contained the last recordings made by my fallen comrades – a Peavey T60, a Fender Telecaster, a T-Rex Moeller Overdrive pedal and a Vox AC4TV amplifier.
The right equipment will help you come close to imitating certain people's sounds, but I don't think that's ever really the right way to go about things. Shop around and try every guitar, amp and pedal you can get your hands on, as you never know what will work for you. I bought my Gretsch because I thought it might help me sound a bit like Chet Atkins, but it doesn't and I don't hold the guitar accountable. Finding your sound is crucial. Ultimately that sound comes from you, not the equipment you're using.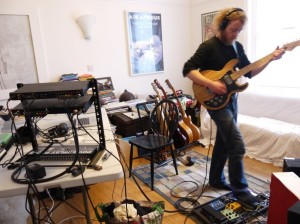 Once we finished the full-band sessions on the album, we started to focus on the subtler overdubs. At this point you had the loneliest job of all, upstairs in your auxiliary studio perfecting solos and layering guitar harmonies. Was this opportunity to work on your sections undisturbed a blessing or a curse? The rest of us always had Dan to keep us company when recording our overdubs, but sometimes we didn't see you for days. How did you cope? In such instances, is there a danger of getting too single-minded about a piece of music and losing all sense of context?
I had way too much fun in the auxiliary studio, which was also my bedroom. It certainly got a little strange after three days or so, but it was crucial for me to have the time to digest the material song by song and plan (roughly) what I wanted to add. I had the time to work out every little detail, which I'd not really had before, and the luxury of being able to use a particular instrument for just a few bars, change guitars for solos and double up parts with very different sounding guitars. Ideally this would be the case with every session I do, but it's very rare that I have all my instruments with me all the time. We don't have the budget to rent studios and instruments so all the recording we seem to do is pretty DIY, but that's not a complaint and I would never sacrifice the atmosphere (knowing that it's not costing you a fortune being one factor) that is achieved recording in this way.
I think there's always a danger of getting too single-minded when recording. The important thing is to be able to walk away for fifteen minutes, then come back and listen again with fresh ears. If something isn't quite right, fix it. It's hard to let things go during the recording process, but you always want to get it as close to perfect as you think it should be. It's a balancing act and being too obsessive can be damaging. I remember getting the rest of you up for a daily check-in to make sure that I was heading in the right direction. Feedback is always necessary.
Any final thoughts about the process? Particular memories (good or bad)? Advice for bands recording in this way? Lessons learnt?
It was the best working holiday I've had to date. By that I mean that it never felt like work, it never felt laboured, even at those moments when I had to change my approach to a tune after four hours of recording. For our music, the impact that the recording environment has on the feel of an album is as important as the impact it has on the sound. If it feels "live" – even when overdubbing – then it should (hopefully) sound like that to the listeners too.
Overall, it was a really enjoyable way to record, reminiscent of The Band's Music From Big Pink, but with significantly fewer drugs and infinitely less sex.