I crumpled up the creeds of Man
And ran out into the rain
Where I mourned for my lost virtue
But mourned more for what remained.
I'd give my grief to God
But I'm just too proud to pray.
Mother, why did you raise me this way?
I'm the busted bulb in your lighthouse,
I'm the guilt dashed on your cliff.
I read about perpetuity,
I hope it's just a myth.
Some people talk of progress
But all I see is decay.
Mother, why did you raise me this way?
I pin my hopes on the future
Like martyrs to a tree
But they haven't yet built the religion
That can hold me.
I hear tomorrow will be better,
I heard the same thing yesterday.
Mother, why did you raise me this way?
Each night I go to sleep
The way a Christian goes to lions.
God can take my body,
I'm leaving my soul to science.
I'm sure He had a plan in Man
But something's gone agley.
Mother, why did you raise me this way?
There's a stranger in this mirror,
Or is it just stained glass?
I've changed my face so many times,
I wish I could change the past.
There are more epithets than cigarettes
Stubbed out in my ashtray.
Mother, why did you raise me this way?
I'm a gentleman, a charlatan,
Prose from a poison pen.
I lately made a big mistake:
Told the truth and sounded fake.
My friends are all long gone,
There's none left to betray.
Mother, why did you raise me this way?
I keep my guardian angel close
But always gagged and bound.
Will someone please let me know
The way off this misery-go-round?
I long to see the spin on me
In St Peter's dossier.
Mother, why did you raise me this way?
I'm told there'll be no jobs until somebody dies
But a salary is just another word
For "consolation prize"
So I'm plodding through Perdition
Like some latter day Dante
Mother, why did you raise me this way?
Now I've told you all my thoughts
But I still haven't seen that penny.
You asked me if there were bad times.
Yeah… MANY.
I long to say I love you
But it's such a damned cliché.
Mother, why did you raise me this way?
This song is not really an anthem to filial ingratitude. It's more the absurd mantra of a deeply deluded and lonely man, someone who thinks he's a Hamlet but is really a Rosencrantz. He is an individual of small and overlooked tragedies.
I wrote Mother in March 2009. Actually, it pretty much wrote itself. I've always had a bad habit of overworking songs – like chipping away at a statue until it's nothing but dust – but Mother was different. The bulk of the writing happened between the hours of 10.00pm and 4.00am one stormy night in Manchester (my memory features a storm; this might be inaccurate, but it lends a certain gothic charm to the tale, with me playing the role of Dr Frankenstein). There were originally a lot more verses that I then chiselled down to a (still arguably self-indulgent) nine. I made a decision at the time that I wasn't going to shy away from pretentiousness… if the lyrics were going to be the focus then I was going to damn well enjoy them. I recall the first line was originally "I wrestled with my religion", but I decided it was too much of a lazy cliché and so beefed it up into (the admittedly ridiculous) "I crumpled up the creeds of Man", which is a line that I still relish singing to this day.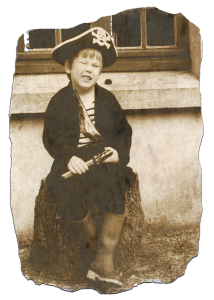 Ostentatious lyrics aside, Mother was a huge turning point for me. It was the first time I really trusted in building a song around a single idea, stripping back arrangements and not throwing in complicated changes just for the sake of it. There aren't many places to hide in this song.
I also cured myself of a near-crippling fear of singing unaccompanied. We first gigged the song at Satan's Hollow in Manchester and I was terrified about opening the set on my own. Three verses sung a cappella. That's one way of getting over your fears.
I still regret that this song didn't pique the interest of Radio 4's Jenni Murray. When we released the single version back in 2010, the press release was fashioned with the sole purpose of getting the song played on Woman's Hour. It even mentioned Volumnia from Coriolanus.
Actually, come to think of it, that might be one of the reasons why the media don't take us seriously. Thanks Mother.